ABOUT SULZEN FINE ART STUDIO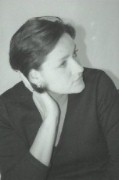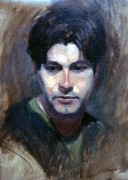 Sulzen Fine Art Studio is the gallery/studio of artist Julie Sulzen and
her husband photographer/writer Dan Zamudio. Since 2002 their Logan Square
home, located inside the former Wold Airbrush factory, has been a working
studio, an "elegant gallery space" (Gaper's Block), and
a playground for their two young children.

Julie and Dan's work is primarily American Landscape painting and photography
with a focus on the Chicago/Illinois area. Along with the American Landscape
paintings and photography they also showcase drawings, watercolors and etchings in
both figurative and landscape themes. They have been curators for over 25 exhibitions
in their gallery. An article about their Gallery/Studio titled "Alternative Spaces: turning
your home into a gallery" was published in Art Calendar Magazine Part 1 / Part 2.

Chicago born Julie Sulzen is a graduate of the American Academy
of Fine Art with Degrees in Fine Art and Illustration. After graduation
she continued her studies under Chicago artist Grace Cole. Her work has
been displayed in many solo and group exhibitions including the National
Museum of Women in the Arts Olympia Centre Atrium Exhibition
inside Neiman Marcus (Chicago) and "A Visual Dialogue" at the
Palette and Chisel (Chicago). Her work can be found in many private and
corprate collections including Deloitte, Harris Bank and Concordia University
Chicago. McFarland, a leading U.S. publisher of scholarly, reference, academic
and baseball books has used her paintings for their book and catalog covers.
Julie was named Curators Choice for the Around the Coyote Fall Arts Festival
in 2000. She is also a recipient of a 2006 Community Arts Assistance
Program (CAAP) grant issued by Chicago Department of Cultural Affairs.

Dan Zamudio has a masters degree in Library and Information Sciences from
Dominican University (River Forest, IL) and a bachelors degree from Columbia
College in Chicago. He is the author of three books,"Chicago Neon Signs:
Neighborhood and Downtown Landmarks through a Toy Camera" (Wicker Park Press),
"Catcher in the Wry: Baseball Poems" (McFarland), and "How to Sneak into
the Movies" (Loompanics Unlimited). Dan's photographs have been displayed in
various solo and group exhibitions including "Chicago and the Diana: Toy Camera Images
by Dan Zamudio" at the Chicago Cultural Center, "Chicago: the Worlds' Pantry" at the
Chicago Tourism Center and "Develop, Stop, Fix" at Fermilab National Accelerator
Laboratory. His work can be found in many private and corporate collections
including Deloitte's Corporate Headquarters Collection in downtown Chicago.
Dan was a adjunct professor at Concordia University in River Forest, Illinois during
the 2004/2005 academic year where he taught darkroom photography.
Dan's photographs have been featured in USA Today, Chicago Tribune, Chicago
Sun-Times, Chicago Reader, WGN-TV, WGN-Radio, and the
Catherine Edelman Gallery's Chicago Project online gallery.

In 2013 Dan signed a liscensing contract with Art in Motion, the leading
Art Publisher in North America. Dan's collaborations with Art in Motion
will soon be available through National retail chains.